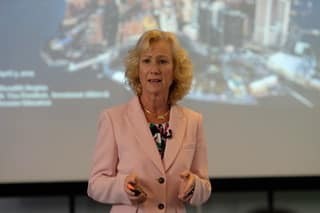 Nareit's Meredith Despins, senior vice president of investment affairs & investor education, recently spoke on the REIT approach to real estate investment during the Florida Public Pension Trustees Association's (FPPTA) 19th annual Wall Street Program in New York. This is the second consecutive year that Nareit has participated in this event. While a discussion of real estate assets had been included on the program in prior years, REITs had not been featured in a standalone presentation until 2018 when Nareit was first invited to speak on the asset class.
The FPPTA's Wall Street Program is among the premier educational events for trustees of Florida's public pension plans. Attendance at the program is restricted each year to a limited number of trustees, and those who have achieved the designation of Certified Public Pension Trustee from the FPPTA. This year, the event was attended by 39 trustees, representing 29 of Florida's public pension systems.
(Contact: Meredith Despins at mdespins@nareit.com)
Get Nareit Developments blog posts delivered straight to your inbox.
Subscribe