Nareit recently released the second REIT Industry ESG Report. The report showcases the substantial efforts made by the industry in 2019, before the onset of the COVID-19 pandemic, to build off the baselines established in the inaugural report. It highlights the REIT industry's many initiatives tied to environmental stewardship, social responsibility, and good governance—download the report.
The REIT industry prioritizes responsible and effective management of ESG issues to help drive return on investment for shareholders and long-term value for employees and communities. Environmental, social, and governance criteria are sets of widely recognized topic areas and metrics used to manage, monitor, and report on an organization's sustainability performance.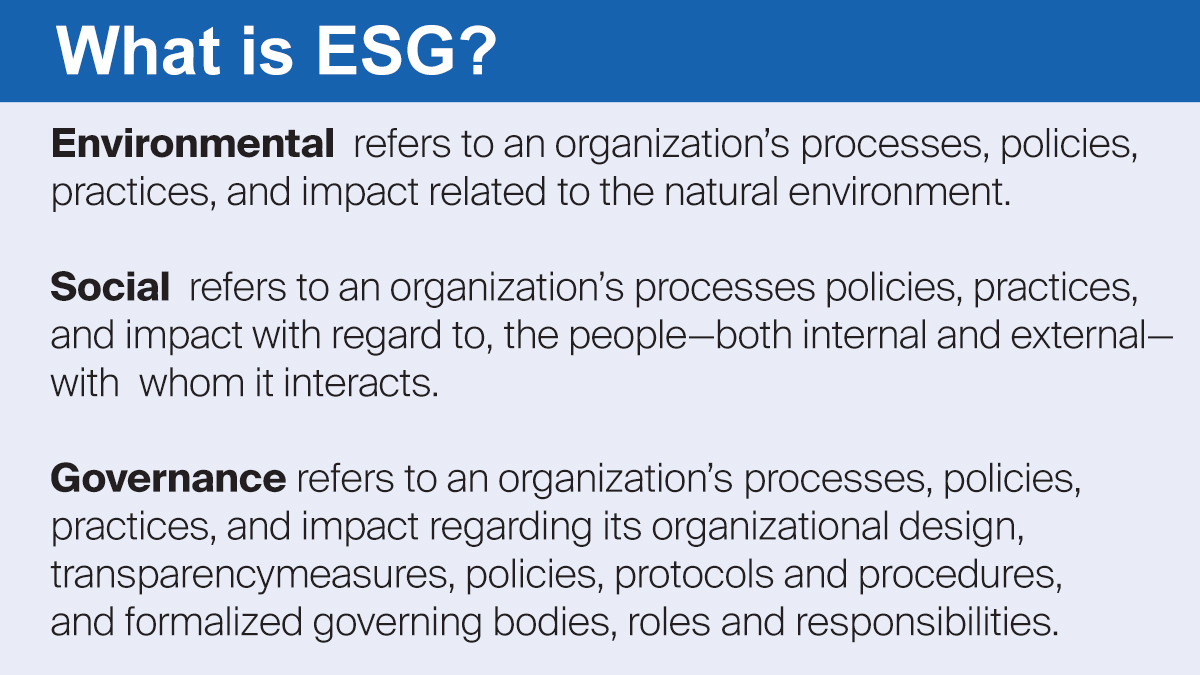 REITs Continue to Improve Disclosure on Key Environmental Performance Areas
REITs have continued to improve disclosure on key environmental performance areas, demonstrating recognition of the environmental impact of their businesses on the long-term sustainability and health of surrounding communities. In 2019, 98% of Nareit members reported to GRESB that they have a policy on environmental issues, and 100% of those reporting actively monitor energy and water consumption through either a data or environmental management system.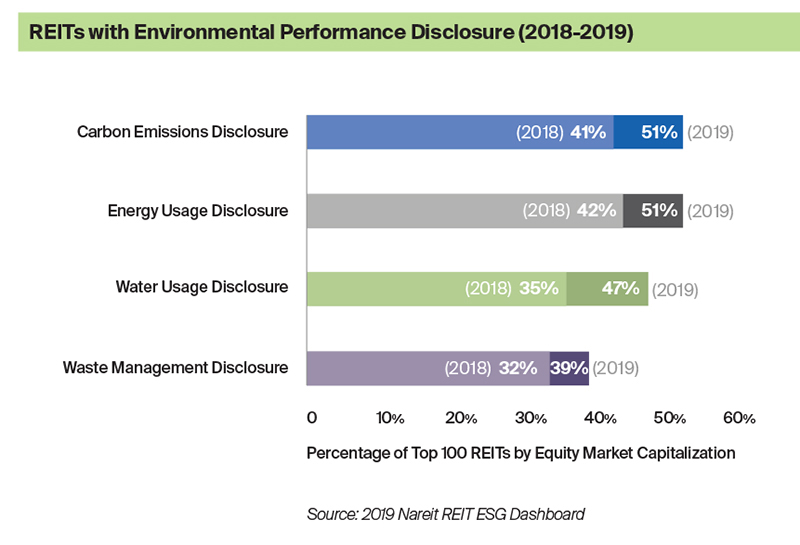 Additionally, REITs are increasingly working towards green building certifications. More than 2,000 REIT-owned properties in the U.S. are green certified, which equals over 606 million square feet. By making properties more attractive to investors and tenants alike, green building certifications can lead to up to 23% higher occupancy rates, 8% higher rental income and up to 31% higher sale premiums than realized for traditional buildings.
REITs Focus on Sustainable Communities, Supply Chain Management
While REITs have long invested in social impact programs, in 2019, the industry exhibited a marked improvement in rates of reporting and disclosure around critical social policies, performance, and impact. Social initiatives across the industry range from training around employee health, safety, and diversity and inclusion, to innovative employee wellness programs and strategic community partnerships.
Management and oversight of supply chains is a subject of growing interest among REITs, with more entities establishing ESG requirements in their procurement processes. Managing supply chain ESG efforts can be complex, as supply chains can extend through multiple tiers and across multiple continents. In an effort to improve global supply chain management and transparency, 58% of the top 100 REITs by equity market cap reported on their supplier screening policies, up from 22% in just the past year.
Majority of REITs Have Established ESG Governing Bodies
Aligned with leading governance practices, many REITs have formed interdepartmental ESG committees that include C-suite and board-level representation as well as cross-functional and often cross-regional groups comprising employees from different levels of the company. Ninety-eight percent of Nareit members reporting to GRESB indicated having a sustainability taskforce or committee in 2019.
REITs have also begun to implement policies that tie compensation for different employees to company ESG metrics. Currently, 81% of Nareit members reporting to GRESB include ESG factors in employee performance targets.
Get Nareit Developments blog posts delivered straight to your inbox.
Subscribe