Fulya Kocak, Nareit's vice president for ESG issues, has published her second book, The Sustainability Leader in You.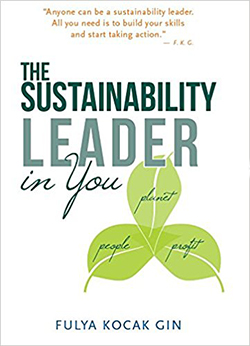 The Sustainability Leader in You takes readers through simple steps toward achieving the goal of becoming an "effective change agent," according to Kocak.
"Today's sustainability leaders come from various backgrounds and possess diverse skill sets, so their common denominator is neither formal education nor technical knowledge. It is their passion to do something meaningful to help people and the planet," Kocak writes.
Some of the chapters in the book include:
Building and fostering relationships for success;
Gaining financial savvy;
Powering up communication skills;
Embracing a positive attitude; and
Starting an effective green team right where you are.
"Today, with so many environmental issues and threats to our mere existence, we need sustainability leaders more than ever," says Kocak.
(Contact: Fulya Kocak at fkocak@nareit.com)
Get Nareit Developments blog posts delivered straight to your inbox.
Subscribe