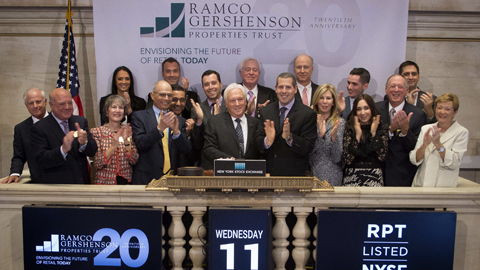 NAREIT Corporate Member Ramco-Gershenson Properties Trust (NYSE:RPT) rang the closing bell at the NYSE on May 11 in celebration of the 20th anniversary of its listing on the exchange.
"We have built a dynamic organization led by a talented management team that understands the challenges of today's marketplace, yet has the vision to lead us into the next 20 years. Our current portfolio is well-positioned to deliver sustainable growth for years to come," said Dennis Gershenson, president and CEO of the shopping center REIT.
Ramco-Gershenson recently reported first quarter 2016 results. The company said operating funds from operations grew 6 percent from the prior year, while progress was made toward the goal of selling $100 million to $125 million of non-core properties.
During the company's earnings call, Gershenson noted that as retail shopping centers continue to deal with challenging economic times, they must position themselves to thrive while retail store formats and locations evolve.
In a recent interview with REIT.com, Gershenson discussed the REIT's move to own larger, multi-anchor, market dominant centers in major metropolitan areas.
(Contact: Sarah Borchersen-Keto at sborchersen_keto@nareit.com)
Get Nareit Developments blog posts delivered straight to your inbox.
Subscribe