Realty Income Corp. (NYSE: O) celebrated its 25th anniversary of listing on the New York Stock Exchange (NYSE) by ringing the exchange's closing bell on August 19.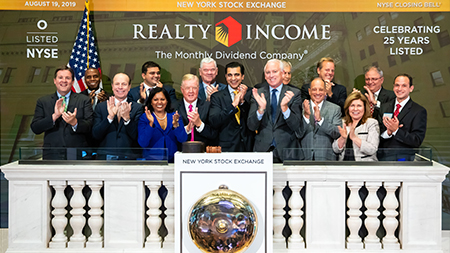 Sumit Roy, Realty Income's president and CEO, noted that during the past 25 years the company's portfolio has grown from 630 properties to more than 5,900 properties. Total market capitalization has increased from $400 million to approximately $30 billion during that time, and adjusted funds from operations (AFFO) per share has increased annually by approximately 5%.
"As the largest company in the net lease REIT sector, we remain committed to building on our track record of performance to continue creating long-term value for our shareholders," Roy said.
Get Nareit Developments blog posts delivered straight to your inbox.
Subscribe