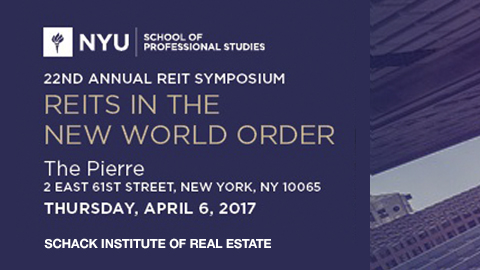 Registration is now open for the 22nd Annual REIT Symposium hosted by New York University's Schack Institute of Real Estate.
This year's conference will be held on April 6th at The Pierre in New York.
NAREIT members can register for a discounted fee of $650 by  using the discount code: NYUSCHACKNAREIT2017. The deadline to register at the NAREIT discount is March 17. If NAREIT members have already registered, they can contact Jessica Watson at jessica.watson@nyu.edu to receive a refund for the discounted amount.
The symposium will bring together REIT industry decision-makers for an examination of the forces that are shaping the sector at this unprecedented time for the economy and business environment. 
This year's keynote speaker is Owen Thomas, CEO of Boston Properties (NYSE: BXP). The program also features one-on-one conversations with Sam Zell, chairman of Equity Group Investments, LLC, and Jonathan Gray, global head of real estate at Blackstone. Panel discussions will include more than 40 of the industry's leading CEOs, bankers, lawyers, analysts and investors.
More than 500 industry delegates attend the symposium each year and are also active participants in the day's discussion and debate.
(Contact: Bonnie Gottlieb at bgottlieb@nareit.com)
Get Nareit Developments blog posts delivered straight to your inbox.
Subscribe