REIT Panel Discusses Disclosures Related to Climate and Sustainability
A panel held during Nareit's REITworks: 2020 Virtual Conference looked at ways to address climate change and manage for climate-related financial disclosures
The panel moderator, Cathy Barré, EVP & General Counsel, Nareit, discussed how climate change is impacting REITs, how to disclose climate risks in financial disclosures, and how sustainability impacts value.
Panelists included:
Eric Duchon , Global Head of Sustainability, JLL Income Trust/LaSalle Investment Management
Greg Lowe , Global Head Resilience and Sustainability, Aon
Marc Siegel, Partner, Ernst & Young/ Sustainability Accounting Standards Board (SASB)
Siegel began the panel by looking at what materiality in sustainability reporting means: "Materiality when it comes to sustainability reporting is not the same as when you are talking about materiality for financial reporting.". He recommended taking into account the following qualitative and quantitative factors: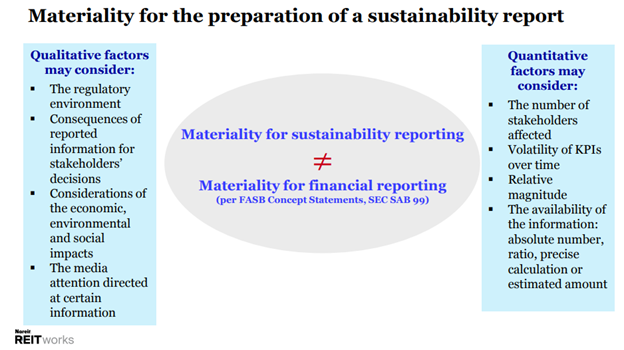 Duchon touched on the different ways REITs can increase value with sustainability. There are ways that adopting sustainable practices drive value, such as making a space more desirable and lower operating expenses. Still, there are also ways that it can keep value from declining and mitigating transitional risk. Transitional risk is the risks companies face while transitioning to a net-zero economy. This includes changing customer behavior, increased insurance premiums, and reputational risks. Duchon said that boards need to ask themselves, "if we aren't doing this, what are investors going to say? What are NGOs going to say?"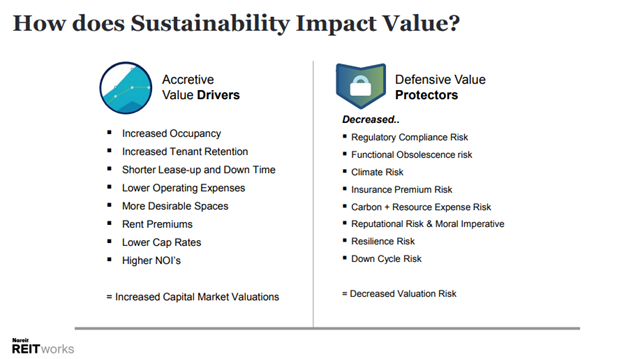 The panel also discussed where to disclose and report on sustainability.
Duchon stressed, "having a consistent message is extremely important." The narrative you tell in your newsletters should be the same as your financial statements and earnings releases. There should be a clear and consistent story across all communications platforms. 
Siegel agreed that "it's fine to have information outside of your 10-K, it's not fine to have information outside of your 10-K that is a completely different narrative from the one inside your 10-K."
The panel suggested taking into account the following communications channels when developing your sustainability narrative: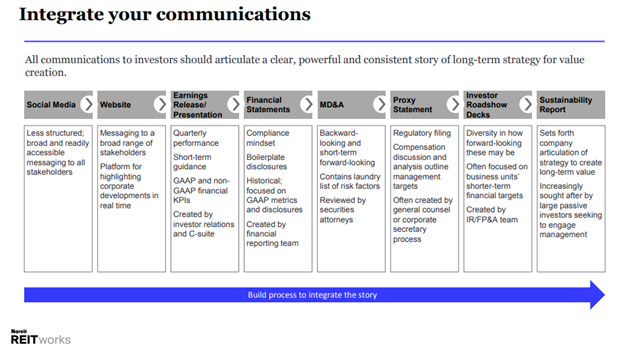 Get Nareit Developments blog posts delivered straight to your inbox.
Subscribe