REITs put foundations into place before the pandemic that have fueled their COVID responses, according to panelists on an ESG-focused webinar that Nareit hosted last week.
The session, "A Look Back to Chart a Path Forward: REIT ESG in 2020 and Beyond," dove into how REITs will pivot on company ESG priorities in the short- and medium-term. Nareit's Fulya Kocak, SVP of ESG issues, moderated panelists Will Teichman, VP of business operations at Kimco Realty Corp. (NYSE: KIM); Carol Samaan, vice president–corporate counsel and ESG at Healthpeak Properties, Inc. (NYSE: PEAK); and Laura Craft, SVP, global strategy and investment ESG at Heitman.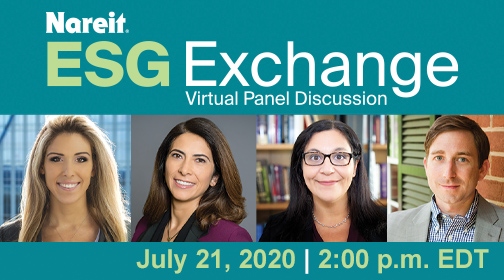 "We're actually directly investing in providing financial support to tenants to apply for secure loans and support through the federal program," Teichman said. He noted that is something the REIT likely would not have done one year ago, but that it's indicative of a more stakeholder-driven approach to the business, which is embedded in their approach to ESG.
Teichman added that Kimco transitioned its 500 employees from in-person to remote work in a period of 24 hours, and that the company has been dedicated to looking after the mental and physical health of its workforce, while also helping to enable their continued productivity remotely.
"We're just thinking about these issues in a very different way," Teichman said.
Samaan said Healthpeak has reached out to its healthcare tenants throughout the pandemic, including making parking lots available for COVID-19 testing at no cost and providing trailers for research on a vaccine and treatments. She stressed the importance of engaging with both tenants and employees.
"This is an event unlike anything we have seen, but we wanted to make sure that our actions were a part of our ESG commitment," Samaan said. "ESG is not just about putting out a report, but really putting action behind the words that we write on the page and being a good corporate citizen and engaging with our tenants."
Craft said that during times of financial uncertainty when trades aren't happening very quickly, Heitman, a real estate investment firm, looks even more closely at ESG. It becomes an even more important indicator of how a company is run.
"There will be additional questions on how institutional investors are viewing REITs, and how REITs are focused on those social impacts—the healthy buildings, how are they making the buildings safe for occupants to return to [them]," Craft said.
While unknowns remain, particularly on the duration of the COVID-19 health crisis and the economic impact it has induced, the panel also spent some time discussing their biggest challenges in moving ESG initiatives forward, particularly those in the environmental arena. Samaan said Healthpeak is looking at how to make its properties as efficient as possible in regard to its long-term greenhouse gas emissions targets, and Teichman said Kimco is looking at ways to partner with its tenants so they can collectively have more of a meaningful impact on ESG in areas like energy and climate change.
"In a triple net lease environment with retail buildings and shopping centers, we still are in a situation where the majority of the impacts within our properties are incurring inside of tenant spaces, outside of our direct operational control," Teichman said.
Get Nareit Developments blog posts delivered straight to your inbox.
Subscribe