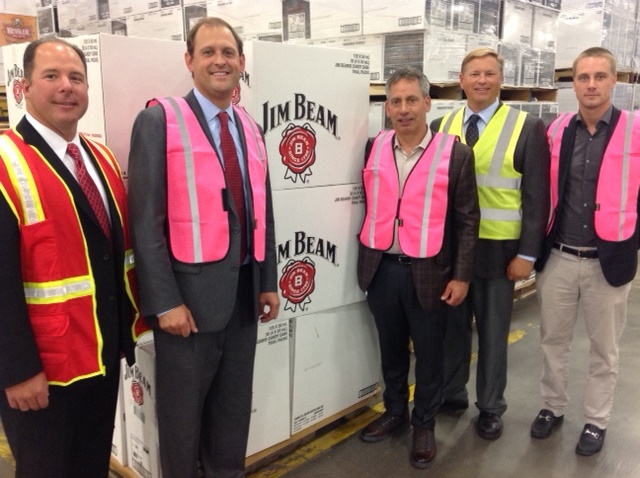 August 23, 2016 - Rep. Andy Barr (R-KY), second from left, visited the Jim Beam Suntory facility located in Frankfort, KY and received an update on the company's recent activities in the area. The facility is owned by Monmouth Real Estate Investment Corporation (NYSE: MNR) and managed by DHL Supply Chain. Barr, a member of the House Financial Services Committee, was briefed on the latest developments involving the facility and toured the property with local company representatives. Joining Rep. Barr for the visit was, left to right, Nathan Crosley, Sr. Director - America Supply Chain, Beam Suntory; Michael Landy, CEO, Monmouth Real Estate Investment Corporation; Corey Casey, General Manager, DHL Supply Chain; and Richard Molke, VP - Asset Management, Monmouth Real Estate Investment Corporation. Rep. Barr was also updated on several legislative items currently being considered by Congress impacting the publicly traded real estate industry, including the Marketplace Fairness Act.
(Contact: Robert Dibblee at rdibblee@nareit.com)
Get Nareit Developments blog posts delivered straight to your inbox.
Subscribe