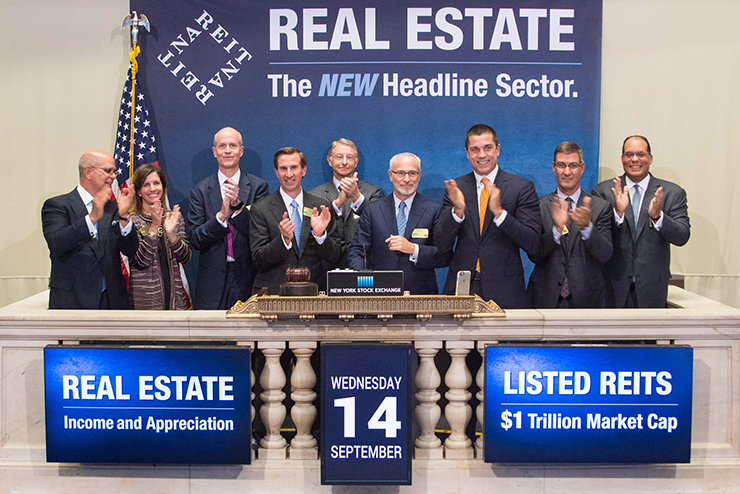 REITs at the NYSE: A group of REIT executives gathered at the NYSE on Sept. 14 to ring the closing bell in celebration of real estate's elevation to a new headline sector under the General Industry Classification Standard (GICS). Those in attendance included (pictured above from left to right): Bobby Taubman, chairman, president and CEO of Taubman Centers, Inc. (NYSE: TCO); Mary Hogan-Preusse, managing director and co-head of Americas real estate for APG Asset Management US Inc.; Owen Thomas, CEO of Boston Properties (NYSE: BXP); NAREIT Chair Ed Fritsch, president and CEO of Highwoods Properties, Inc. (NYSE: HIW); Mike Grupe, NAREIT's executive vice president for research and investor outreach; Steve Wechsler, president and CEO of NAREIT; Tom Farley, president of NYSE Group, Inc.; former NAREIT Chair Don Wood, president and CEO of Federal Realty Investment Trust (NYSE: FRT); and NAREIT Second Vice Chair Thomas J. Baltimore Jr. of Hilton Worldwide.
(Contact: Ron Kuykendall at rkuykendall@nareit.com)
Get Nareit Developments blog posts delivered straight to your inbox.
Subscribe