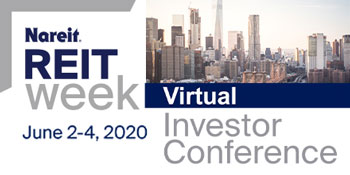 Due to the COVID-19 pandemic, Nareit will conduct its REITweek: 2020 Investor Conference virtually on June 2-4.
What will change with virtual REITweek?
REITweek is the largest annual REIT industry investor conference, connecting investors with the management teams of nearly 200 REITs. Attendees will still have the opportunity to connect with top REIT management during virtual company presentations, one-on-one private meetings, and more—but these will be held over secure video calls in a virtual conference environment.
How can I attend REITweek virtually?
REITweek is open to Nareit corporate members (REITs), qualified institutional investors, and approved representatives from sponsoring firms. Simply register online, and you'll receive updates from Nareit about how to access the virtual conference environment, customize your schedule, and join video meetings and presentations. For information on sponsorship opportunities, contact Chris Flood.
Where can I get updates about REITweek?
Visit the REITweek website for the latest updates about the event. Please contact member@nareit.com with additional questions.
Get Nareit Developments blog posts delivered straight to your inbox.
Subscribe