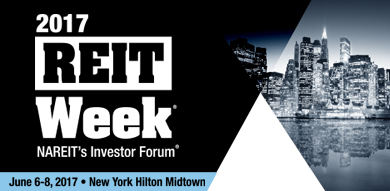 The May 12 deadline to secure the NAREIT hotel group rate discount for next month's REITWeek 2017: NAREIT's Investor Forum is fast approaching.
As a NAREIT corporate member, you can use the REITWeek fast-track registration to register for the forum and then proceed to book your room.
REITWeek will be held June 6-8 at the New York Hilton Midtown and is the leading event for institutional investors to connect with more than 500 REIT executives.
REITWeek creates opportunities for institutional investors to engage REIT executives directly through individual company presentations, one-on-one meetings, networking events and high-profile panel sessions.
In addition, REITWeek attendees can join NAREIT and the American Real Estate and Urban Economics Association (AREUEA) at the NAREIT/AREUEA Real Estate Research Conference on June 5 – the day before REITWeek opens  –  to hear the results of leading REIT research covering important real estate investment topics.
The event is complimentary and registration is open to anyone interested in the latest research related to REITs. To attend the NAREIT/AREUEA Real Estate Research Conference, a separate registration form from REITWeek is required.
(Contact: Tracie Desjardins at tdesjardins@nareit.com)
Get Nareit Developments blog posts delivered straight to your inbox.
Subscribe