Leading up to Nareit's inaugural REITworks: 2020 Virtual Conference, Nareit is interviewing the conference program directors to get their perspectives on ESG and REITs. REITworks will be held virtually on Sept. 21-22, and attendees will have the opportunity to learn about the latest ESG issues impacting real estate, connect virtually with peers and industry experts, and earn continuing education credits.
Wendy Gill, SVP & chief accounting officer at Columbia Property Trust, Inc. (NYSE: CXP) is one of the six program directors for REITworks. Last week, she spoke with Nareit about the upcoming virtual conference.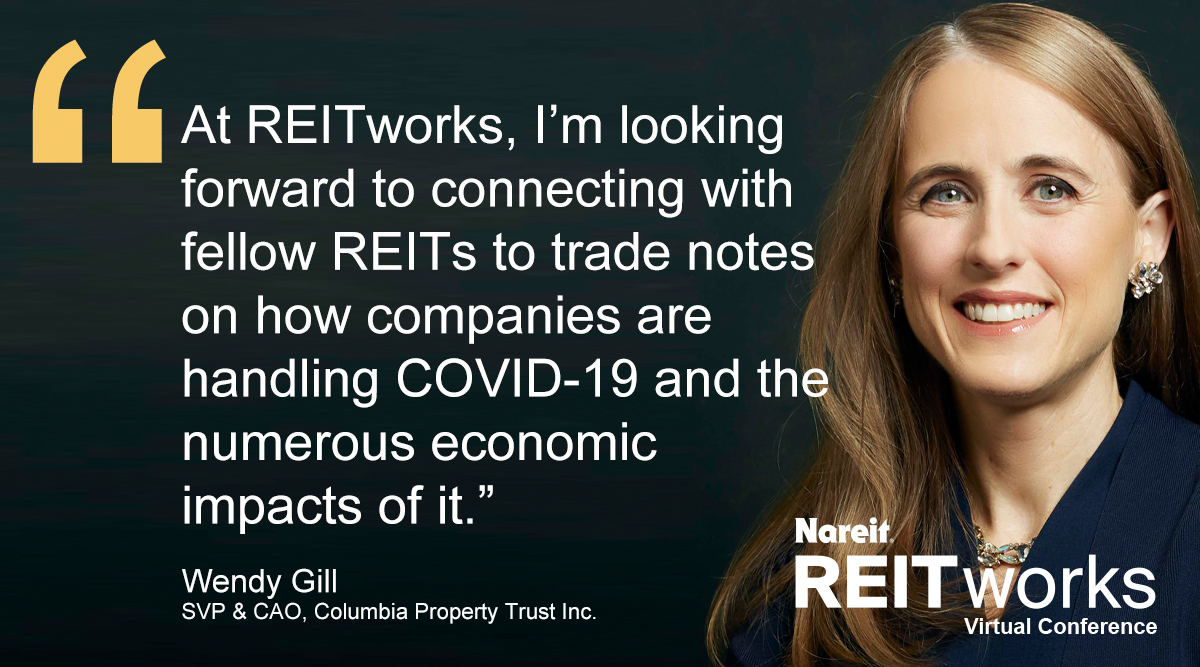 Q: What are you looking forward to most at REITworks?
I'm looking forward to connecting with fellow REITs to trade notes on how companies are handling COVID-19 and the numerous economic impacts of it.
Q: Can you speak to the importance of ESG being viewed as a company-wide priority?
ESG has become an important priority for Columbia Property Trust over the past year. We issued an ESG report for the first time which resides on our website, and expect to do so annually going forward as well.
Q: As the CAO of Columbia Property Trust, how do you view the role of an accountant in a company's ESG strategy?
Accountants bring transparency, consistency and thoroughness to reporting data that underlies ESG areas of focus (e.g. energy usage for our buildings).
Q: How have ESG issues in real estate evolved since the COVID-19 crisis began? What are the most important issues to be watching right now?
Employee health and safety has definitely become a top priority. In the office sector (where Columbia Property Trust invests), we're also focused on responding to the drastic change in density requirements for tenants.
Other areas of focus include employee retention, motivation, and connectivity in full or partial work-from-home environments.
Q: Are there any standout sessions you're excited about in the REITworks program?
I'm looking forward to "Accounting Standards: Latest FASB & SEC Developments Impacting REITs and CRE" and "Case Studies from REITs that have Created and Implemented Effective D&I and Other Social Policies."
Register for REITworks by Aug. 29 to receive an early bird discount. REITworks attendees will hear thought leaders discuss key topics related to accounting, financial reporting, sustainability, capital markets, disclosures, investor relations, diversity and inclusion, human resources, and more.
Get Nareit Developments blog posts delivered straight to your inbox.
Subscribe