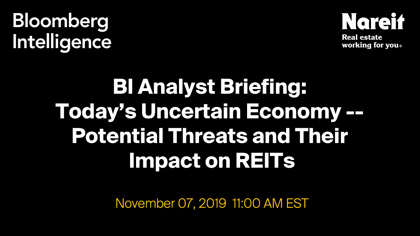 In an upcoming webinar, titled "Today's Uncertain Economy—Potential Threats and Their Impact on REITs," Bloomberg Intelligence analysts and guests from Bloomberg Economics and Goldman Sachs will explore the current economic climate and what it means for REIT investors. The webinar will take place on Nov. 7 at 11:00 a.m. EST.
Between the trade war, global economic slowdown, and the inversion of the yield curve, many investors are asking, "are we facing another recession?"
Nareit Economist Calvin Schnure argues that while the economic outlook does face risks from trade wars, there are also opportunities: the resilience of the domestic economy continues to generate demand for commercial real estate, and low interest rates help create favorable financing conditions.
Join the webinar on Nov. 7 to explore questions such as:
How well-prepared is the REIT industry to weather an economic downturn?
What economic effects may result from the impeachment proceedings?
How effective as a predictor of recession is the inverted yield curve?
Get Nareit Developments blog posts delivered straight to your inbox.
Subscribe