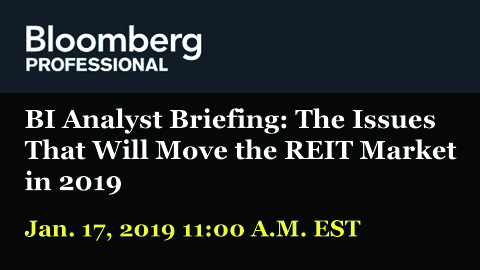 Will the economy maintain momentum in 2019, boosting demand for commercial real estate, and keeping property prices on their upward path? Or are there signs of weakening in the foundation that could lead to a downturn? These are some of the questions Nareit Senior Vice President, Research and Economic Analysis Calvin Schnure examines in his recent 2019 REIT outlook.
Schnure will join REIT industry experts to discuss the 2019 economic outlook, Federal Reserve policy and interest rates, as well how these and other factors will shape investment opportunities across the REIT market in 2019 in an upcoming Bloomberg webinar. This free webinar will take place on Jan. 17 at 11:00 a.m. EST. Speakers include:
Steven R. Brown - Global Head & Senior Portfolio Manager of Real Estate, American Century Investment Management
Cedrik Lachance - Director of REIT Research, Green Street Advisors
Calvin Schnure - Senior Vice President, Research & Economic Analysis, Nareit
Jeffrey Langbaum, Senior REIT Equity Research Analyst, Bloomberg Intelligence
Lindsay Dutch, CFA, REIT Equity Research Analyst, Bloomberg Intelligence
Register today to get these expert insights on the 2019 REIT market.
Get Nareit Developments blog posts delivered straight to your inbox.
Subscribe