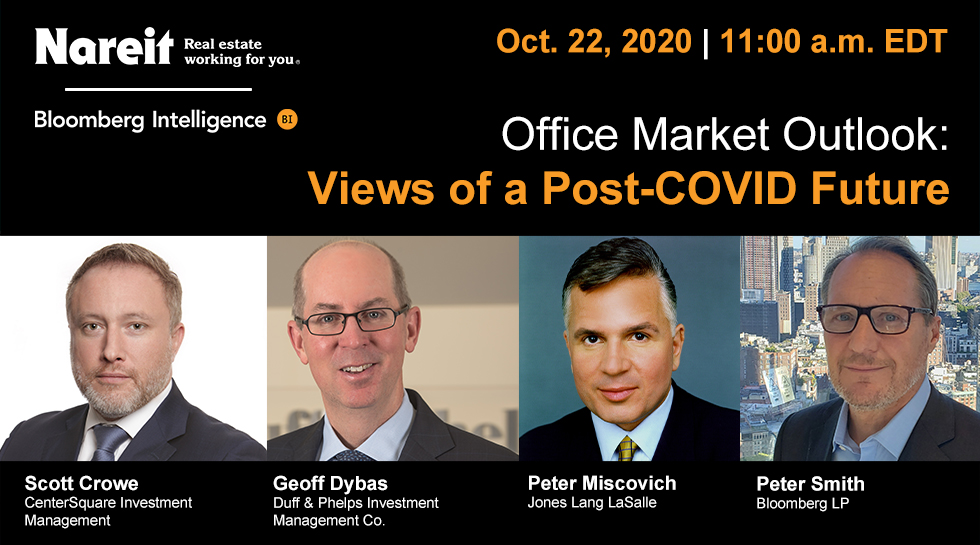 Learn about the outlook for office space and implications for property users and REIT investors in an upcoming webinar hosted by Nareit and Bloomberg Intelligence, "Office Market Outlook: Views of a Post-COVID Future." This free webinar, to be held on Thursday, Oct. 22 at 11:00 a.m. EDT, will explore the impact of the pandemic and the work-from-home trend on the office sector.
The COVID-19 pandemic has dramatically changed tenants' use of office space today and raised questions about the demand for it in the future. There has been a trend in recent years toward less space per worker, but it is unclear how much overall demand for office space will decline due to remote work if there is an offsetting increase in the space per worker.
The webinar will be moderated by Jeffrey Langbaum, senior REIT analyst at Bloomberg Intelligence. Panelists will include:
Scott Crowe, Chief Investment Strategist, CenterSquare Investment Management
Geoff Dybas, Executive Managing Director, Senior Portfolio Manager, Duff & Phelps Investment Management Co.
Peter Miscovich, Managing Director, Strategy and Innovation, Jones Lang LaSalle
Peter Smith, Director of Global Real Estate, Bloomberg LP
Learn more about the webinar and register for free here.
Get Nareit Developments blog posts delivered straight to your inbox.
Subscribe