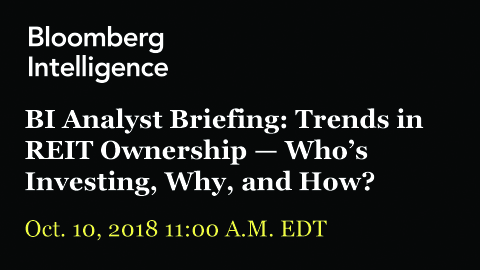 Nareit's Executive Vice President, Research & Investor Outreach, John Worth, will join two top investment strategists in an upcoming Bloomberg Intelligence webinar to discuss the increasingly important role of commercial real estate to most any investment allocation strategy. The webinar will take place on Oct. 10 at 11:00 a.m. EDT, and registration is complimentary.
The webinar will answer questions such as:
How are REITs being used to gain exposure to commercial real estate in asset allocation models?
What is the appropriate allocation to REITs across target date funds as part of retirement planning?
What does the rise of passive investing and the exploding market for exchange traded funds mean for REITs?
Learn more and register for the webinar here. 
Get Nareit Developments blog posts delivered straight to your inbox.
Subscribe