Content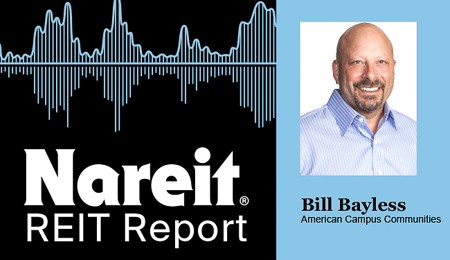 Bill Bayless, CEO of American Campus Communities, Inc. (NYSE: ACC), said the REIT is helping its student residents weather coronavirus-related disruption by ensuring they have a home during the crisis, regardless of their ability to pay rent on a timely basis.
Speaking April 23 on the Nareit REIT Report, Bayless said the company's Resident Hardship Program ensures students can complete their online education in an academically oriented environment without facing late fees, online payment fees, financially-related evictions, or any negative impact to their credit reports if they and their families are facing financial disruption.
To date, 2,787 residents have applied under the program out of more than 100,000 residents, Bayless said. In April, the company abated $1.6 million in rent and has already abated $400,000 in rent for May.
Bayless said American Campus is "very pleased and optimistic about the return to campus in the fall by students, even if classes are going to be held online." To date, the REIT's portfolio is about 76% preleased for the fall, and in the 30-day period after March 16, it had 5,000 students lease to return in the fall. Lease cancellations for the fall are actually slower than in prior years, he noted.
Bayless also noted that at many of the universities that American Campus serves, a large majority of on-campus housing continues to be product left over from 1940-1960 with communal facilities. "We think there will be some de-densifying that needs to take place in some of the universities' older bath facilities," he said.
American Campus has initiated a major outreach program to contact universities and ensure they are aware of all the modern product the REIT can provide, which would allow them to "get students back to campus in comfort in terms of being able to implement CDC guidelines," Bayless said.
"We're very comfortable that there will be a return to normalcy in higher education. Campuses will ultimately re-open and when that takes place, American Campus will continue to be well-positioned as the best-in-class company and university partner of choice," Bayless said.