Content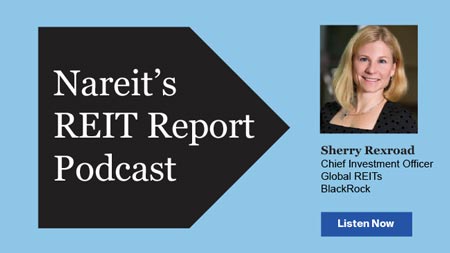 Sherry Rexroad, chief investment officer of the Americas and global real estate securities platform at BlackRock, Inc., was a guest on Nareit's REIT Report podcast, recorded in San Francisco during Nareit's REITworld: 2018 Annual Conference.
Rexroad said sustainability is playing an increasingly central role in investment decisions at BlackRock.
"We really believe that sustainability-related issues, ranging from board composition and human capital to climate change, can, and often do, have real quantifiable financial impacts," Rexroad said. BlackRock's approach, she said, is to include environmental, social, and governance (ESG) information into the investment decision-making process as part of the risk and return analysis.
Turning to trends in U.S. real estate transaction volume, Rexroad pointed to an increase of about 6.6 percent in total transaction volume in 2018 year-over-year, after volume declined marginally in 2016 and 2017 following peaks in prior years. Strength has been evident in all sectors except office, she noted.
Job growth and low supply is keeping real estate fundamentals strong, according to Rexroad. In 2018, lending overall has been "very healthy," particularly in low-risk property types. Construction lending, however, is still relatively unavailable and is helping to keep supply levels low, she added.
Meanwhile, despite geopolitical tensions in Europe "that worry us," the overall economic outlook on the Continent is positive, Rexroad said. For its part, BlackRock is focusing on the central business districts of Paris, Madrid, and Stockholm. In the United Kingdom, overall fundamentals remain "reasonably strong," with transaction volume muted as the market waits for Brexit clarity, she noted.