Content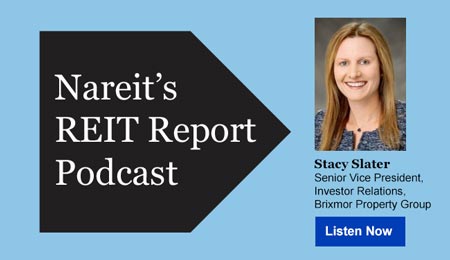 Stacy Slater, senior vice president for investor relations at Brixmor Property Group Inc. (NYSE: BRX), joined Nareit for a special edition of Nareit's REIT Report Podcast recorded in New York during Nareit's REITweek: 2018 Investor Conference.
Slater said some of the questions most frequently asked by investors focus on tenant demand at its shopping center properties and how that might have changed from last year. Investors are also interested in the disconnect between valuation levels and where Brixmor is selling its assets, she said. Other investor areas of interest include where Brixmor and other retail REIT stocks are trading on an implied cap, rate, and the impact of rising interest rates.
Slater described competition for capital as "hard," noting that there have been outflows out of the REIT industry.
In the current competitive environment, Slater said the best way for Brixmor to reach out to investors is through non-deal road shows. As for meeting with generalist investors, "particularly in this market, and given where valuations are, it's incredibly important right now to be doing that," she added.