Content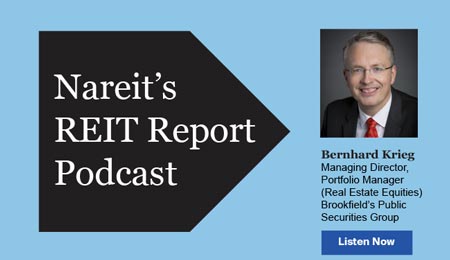 Bernhard Krieg, managing director and portfolio manager on the real estate equities team for Brookfield's public securities group, was a guest on the latest edition of Nareit's REIT Report podcast.
Krieg discussed some of the factors that he and his team use to evaluate the global real estate securities landscape and commented on the gap between public and private real estate valuations in the United States.
As for where he sees some of the best value opportunities in the U.S. market, Krieg pointed to high-quality shopping malls.
"We think there's a really big opportunity that exists for some of the larger, well-capitalized mall operators that are currently trading at a significant discount to their underlying market valuation," Krieg said.
Office companies with exposure to San Francisco are another sector to watch, according to Krieg. He explained that many tech companies are leasing space in the city to accommodate the preferences of their younger employees, who would rather work there than in Silicon Valley.
New development in San Francisco, including Boston Properties' (NYSE: BXP) Salesforce Tower, is about 97 percent pre-leased, Krieg said. With a dearth of new construction, rents in the city could increase "significantly" in the next 12 to 18 months, he noted.
Meanwhile, Krieg said he sees growing migration toward Sunbelt cities, as major companies are relocating for cheaper costs and a better lifestyle for their employees.