Content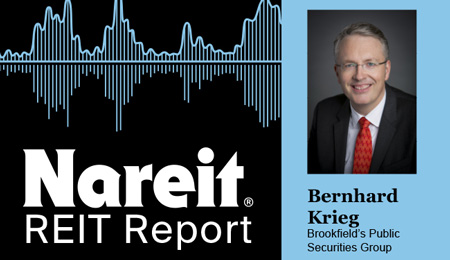 While COVID-19 has created short-term disruption and altered business and leisure routines, trends prevalent today may not necessarily remain in place for the longer term, according to Bernhard Krieg, managing director and portfolio manager on the real estate equities team for Brookfield's Public Securities Group.
Krieg noted that a valuation shift between growth and value-oriented stocks was already evident before the pandemic and has diverged further since then. However, "to a certain degree these trends are not permanent, in our view," he said.
"It's easy sometimes to extrapolate the most recent trends and think they will not change materially…It's our view that we are going to revert back to normal and investing globally gives us some important perspective on some of the markets where the pandemic has subsided," Krieg said.
Krieg noted that in China, for instance, behavior appears to be reverting to what was seen before the crisis. "We think a similar thing will be upon us when we are on the other side of this pandemic," he said.
Among the sectors that have been "meaningfully impacted" in the short term, but have good long-term prospects, is senior housing, according to Krieg. Near-term cash flows have been difficult, and occupancies have declined quite significantly, he said, but "we think the long-term fundamentals are very strong."
Turning to some of the clear beneficiaries during the coronavirus crisis, Krieg noted that in the data center segment, "supply is much more in check, but we think demand will start to normalize" as routines begin returning to pre-crisis norms.
Meanwhile, Krieg said that COVID-19 has turned some of the positive attributes of urban living into short-term negatives. However, "longer term, we're a big believer in the value as well as the longevity of some of the coastal urban markets."
Krieg also commented on the expansion of listed real estate, noting that although there could be a temporary slowdown, there are early signs of companies tapping the capital markets—a trend that is likely to accelerate this fall and into next year.