Content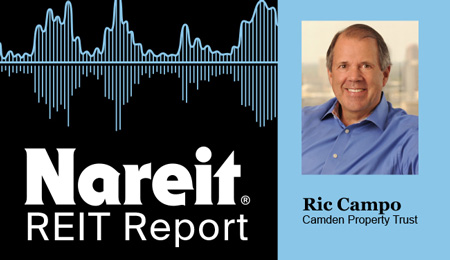 Ric Campo, chairman and CEO of Camden Property Trust (NYSE: CPT), said that while April rent collections have slowed somewhat in the past week, "generally we feel pretty good about where we are" in terms of residents' ability and willingness to pay rent.
In an April 9 REIT Report interview, Campo discussed the REIT's efforts to help its residents weather the crisis, including the establishment of a $5 million tenant relief grant. He explained that Camden wanted to help fill the gap between when a resident might have lost a job and the receipt of federal benefits.
"Business should focus on being a real partner in the community… it's just the right thing to do to help people when times are tough," Campo said. He noted that there was more demand for the grant than expected, with the entire $5 million amount allocated in about 16 minutes. Checks were sent out to residents within 24 hours of their grant applications being approved, he noted.
Campo highlighted the fundamental shift Camden has made in order to operate remotely, including the use of virtual tours and virtual leases. "We weren't really ready for that but now, after having done it for the last three weeks and leasing 300 units a week this way, we may never go back," Campo said.
Looking ahead, Campo said Camden's ability to embrace technology in the current crisis "is going to create some really interesting opportunities that would have taken a lot longer to manifest …that's definitely going to change how we operate and how we think going forward."