Content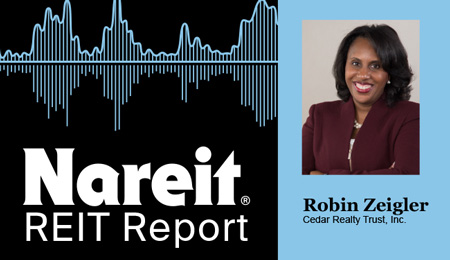 The appeal of attractive urban gathering places has remained intact throughout the coronavirus crisis, despite reports of preferences shifting toward less dense, suburban locations, says Robin Zeigler, EVP and COO at Cedar Realty Trust, Inc. (NYSE: CDR).
"One of the things we've seen during this period is that people do still have a desire to gather and to be in certain types of environments. The desire to have outdoor dining, the desire to go to a bar is still evident…people want good urban gathering places," Zeigler told the REIT Report.
Cedar Realty owns a portfolio of predominantly grocery-anchored shopping centers in high-density urban markets from Washington, D.C. to Boston.
As for what Cedar Realty looks for when selecting assets, Zeigler said the REIT wants grocery-anchored centers with a good retail mix, or the potential to achieve that, in addition to the ability to be repositioned for long-term value creation and growth.
At the same time, Cedar Realty tends to be "income agnostic," she said. "What's important is to have centers in areas with demographics that meet the services we're providing. That can be up and down the income scale."
Zeigler also noted that Cedar Realty had a "very strong" rent collection during all the months of COVID, with one of the highest rent collection levels among the retail real estate REITs.
"Even with the advent of online grocery and online retail our view is that people still buy groceries in the grocery store and that is still our bread and butter…as we embark on urban mixed-used development, grocery is a signature part of those projects as well," Zeigler said.
Meanwhile, Zeigler underscored the dual importance of mentors and sponsors for young women and people of color within the real estate industry.
She also stressed the need for companies to "really evaluate" how they are looking at diversity initiatives.
"It's not about checking a box but digging deep on the benefits of a diverse workforce…and including it in all aspects of the business" on a permanent basis, Zeigler said. "That's when we will see systemic change and that's where I think we ultimately need to get to," she added.