Content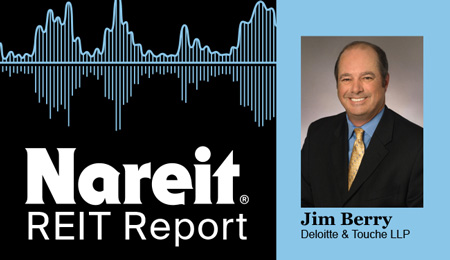 Commercial real estate firms are beginning to implement lessons learned from the COVID-19 pandemic and create targeted measures to emerge stronger in the medium-term, according to Jim Berry, U.S. real estate leader at Deloitte & Touche LLP.
Speaking on the Nareit REIT Report podcast, Berry noted that the industry has moved from an initial 'respond' phase into a 'recover' phase, with many commercial real estate executives now focused on issues such as preparing for re-entry to physical spaces and promoting employee and tenant wellbeing. Executives are also looking at what worked well in the early stages of the crisis and what needs to be improved upon, he said.
The other characteristic of this recover phase is the trend toward thinking about what might happen to business models and the implications of possible longer-term shifts with regard to tenant preferences, design and space needs, and increased use of technology, Berry explained.
While the industry overall performed well at the onset of the crisis, it will be "critical" for firms to be agile going forward. "It's going to be important for real estate to take a lead and to work with their tenants, to work with the end-user, to help solve those problems and not become too internally focused," Berry said.
Berry also commented on how the crisis has largely acted as an accelerant to trends already in place within the commercial real estate industry.