Content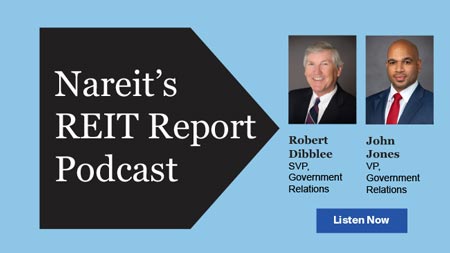 In the latest edition of Nareit's REIT Report podcast, Nareit Senior Vice President for Government Relations Robert Dibblee and Nareit Vice President for Government Relations John Jones discuss the outlook for the 116th Congress.
With the House of Representatives now under Democratic control, and a divided Congress for the first time in nearly a decade—in addition to a looming presidential election cycle—prospects for legislative accomplishments are modest.
"There will mostly be gridlock where policy is concerned, which we're seeing reflected in the recent government shutdown," Dibblee said. Must-do items, such as appropriations bills and debt limit legislation, could be the only two exceptions to the gridlock for the next two years, he said. "However, the current standoff could have long-term impacts on every aspect of the legislative agenda that we can't anticipate right now."
Jones noted that "most issues will end up becoming polarized and it will be very difficult to accomplish anything of great importance during a presidential election cycle, especially beginning late 2019."
Reauthorizing the Terrorism Risk Insurance Act (TRIA) will be a top priority for Nareit in 2019. Implemented after the 9/11 attacks, "it's still relevant and a priority for commercial real estate today," Dibblee said. The current TRIA authority expires at the end of 2020 and Nareit expects that to be adopted by Congress, so TRIA legislation might need to be attached to a must-do item.
The 116th Congress will likely also see efforts to roll back or modify last year's tax reform legislation. Nareit will remain "vigilant" in monitoring any impact on REIT-specific or general real estate provisions, Dibblee noted.
Turning to some of the key members who can impact issues that the REIT industry could face, Jones pointed out that House Speaker Nancy Pelosi (D-CA) has a strong understanding of the real estate and REIT industry and "knows how to strike a deal." House Ways and Means Committee chairman Richard Neal (D-MA), meanwhile, is a longtime chair of the congressional real estate caucus and has been known to work toward solutions with REIT industry leadership, according to Jones.
Jones noted that 43 Democrats flipped Republican House seats last November. These new members will be geared toward bipartisan accomplishments to demonstrate that they want to get things done, he said. "That's the silver lining in what can be seen as one of the most partisan times in recent memory."