Content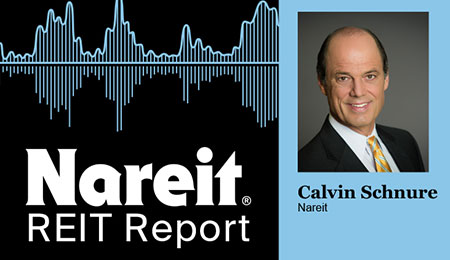 Continued signs of resilience in the economy, even as the coronavirus remains active, point to a positive environment for commercial real estate going forward, according to Nareit Senior Economist Calvin Schnure.
Speaking Aug. 31 on the REIT Report, Schnure noted that new home sales in July rose to their highest level since 2006. Durable goods orders rose more than expected, and industrial production and business investment are on track to return to pre-pandemic levels, he added. Consumer spending also rose nearly 2% in July.
Schnure said concerns of a "W" shaped recovery, indicating a stall and reverse, have been unfounded to date. "We're seeing continued gains and the economy is still going to provide a good backdrop for commercial real estate."
Schnure also emphasized the resilience of the commercial real estate sector along with the rest of the economy. While the level of transactions has tapered off, valuations have remained steady, according to new data from the CoStar commercial repeat sales index. In fact, multifamily valuations appear to be higher for the year, he noted.
Meanwhile, the FTSE Nareit All Equity REITs index had a positive total return of 2% last week, as all property sectors rose, especially lodging and resorts, and timber REITs.
With last week's increases, the decline year-to-date for all equity REITs was trimmed to less than 10%. "It's still in negative territory, but it's moving back toward positive territory as the recovery continues," Schnure said.
Turning to specific sectors, Schnure pointed out that the 5.5% total return by timber REITs has put this sector into positive territory for the year, along with self-storage, industrial, infrastructure, and data centers, where total returns this year are currently 31.7%.