Content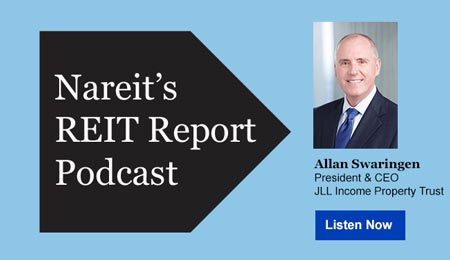 Allan Swaringen, president & CEO of JLL Income Property Trust, was a guest on the latest edition of the Nareit REIT Report podcast.
JLL Income Property Trust is a perpetual life, daily NAV REIT that is advised by LaSalle Investment Management and sponsored by JLL.
Swaringen described the landscape of the non-listed REIT sector today. He pointed to three substantive changes that have occurred in the last five to six years. They include: a move to perpetual offerings; increased regulation and the adoption of an institutional valuation methodology; and a movement toward programs diversified by property type.
JLL launched its own daily NAV platform in early 2012. "We like to refer to it as the 2.0 version of the non-listed REIT because it's really provided an evolutional change," Swaringen said.
Swaringen stressed that while the liquidity features of the new products have been significantly enhanced from the legacy versions, "these are not liquid products, and this is more in the realm of private equity real estate than public real estate." He added that if investors really need liquidity, they should be investing in public REITs.
"We think there's a good case for owning real estate in a non-tradeable fashion," Swaringen said. However, investors should have a longer-term investment horizon of at least five to seven years, he added. He emphasized that investors shouldn't confuse daily valuation with daily liquidity.
Looking ahead, Swaringen said the outlook for the daily NAV market is positive.
While overall sales in the non-listed sector have been down the last couple of years, there has been a big shift in sales away from the 1.0 version toward the new NAV offerings. "We think there's very significant upside," Swaringen said.