Content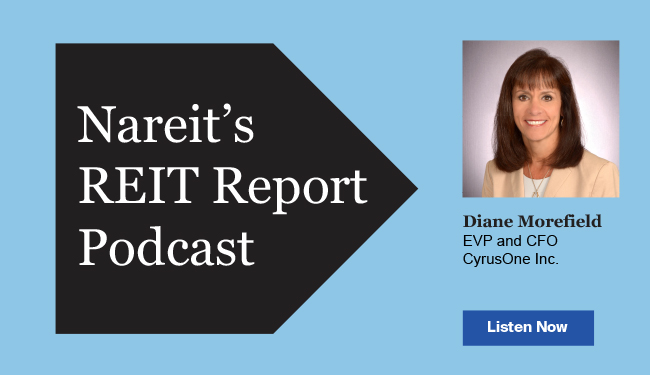 Diane Morefield, executive vice president and CFO of CyrusOne Inc. (NASDAQ: CONE), was a guest on Nareit's REIT Report podcast, recorded in San Francisco during Nareit's REITworld: 2018 Annual Conference.
CyrusOne received an investment grade rating from Standard & Poor's in September. Although the company welcomed the news, Morefield said the ratings agencies have been slow to understand the data center model. She noted that prior to the CyrusOne upgrade there was only one other data center REIT with an investment grade rating.
"Our profile, and that of the other data centers, is very consistent with the broader REIT industry," Morefield said. She noted that more than 70 percent of CyrusOne's customers are investment grade rated.
"We've suffered from being classified as … a non-traditional REIT category, which has caused the rating agencies to review our asset class, in our view, more harshly than other REITs," Morefield said. Looking ahead, "we're very optimistic that we will achieve full investment grade rating in the near term as the other rating agencies now catch on to our more traditional traits."
Morefield also commented on CyrusOne's focus on customer satisfaction. About 80 percent of leasing activity each quarter comes from existing customers.
Meanwhile, Morefield said CyrusOne's biggest opportunity for 2019 lies in international expansion. "We are well on the way to having a really strong footprint and portfolio throughout Europe," she noted, while the company is also investing in data center platforms in China and Latin America.