Content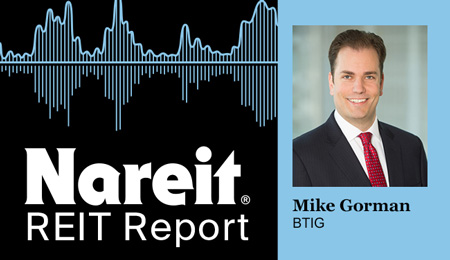 The latest edition of the Nareit REIT Report podcast looked at trends in the REIT health care real estate segment with Michael Gorman, a managing director and REIT analyst at BTIG.
The key theme last year was the differentiation in the underlying performance of health care real estate portfolios, according to Gorman. That trend is likely to remain in place, at least in the first half of 2020, he noted.
In 2020, "we don't see a groundswell of improvement in any of the particular property types. Senior housing is still going to be pretty choppy at the national level," Gorman said. However, the medical office building segment should return to external growth in a "more meaningful way" in 2020, he added.
One key factor adding to uncertainty in the health care real estate sector this year is November's general election, according to Gorman.
"Whether Medicare for all or the affordability of senior care, there's going to be a number of issues that come up that if implemented, or if supported in the election, would dramatically change health care in this country. I think that's something that investors need to be ready for, even if it's not their base case assumption," Gorman said.
Other factors that investors should focus on in terms of assessing the risk premium of health care REITs include the trajectory of interest rates, Gorman noted.
Meanwhile, the aging baby boomer population—known as the silver tsunami—has been a narrative driver more than a fundamental driver at this point, Gorman said. While the silver tsunami is starting to drive health care spending at the early end of the spectrum, the real impact on senior housing won't be apparent for probably another two to three years, he explained.
"It's the idea of the wave that's coming that has helped drive a lot of the development [and] that has caused the weaker national statistics over the past four years," Gorman said.
Gorman also commented on the growing interest in middle income seniors and the affordability of senior housing, as well as the potential impact of technology.
"2020 could be the year where technology really starts to poke its head above the surface and insert itself into the conversation for health care real estate," he said.