Content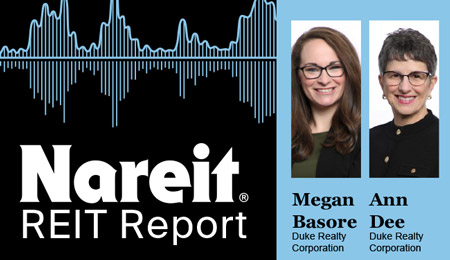 Executives from Duke Realty Corp. (NYSE: DRE), a leader in corporate responsibility matters, joined a special edition of the REIT Report on August 5 to share their observations and advice on initiating and growing a vibrant ESG strategy that is embraced at all levels of the company.
In conjunction with Nareit's multimedia series ESG Exchange, Nareit Executive Vice President and General Counsel Cathy Barré spoke with Ann Dee, executive vice president and general counsel, and Megan Basore, vice president of corporate responsibility.
Dee played a key role in the evolution of the ESG function at Duke Realty, serving in 2015 as the executive liaison of a cross-functional group of leaders looking at how to move forward on ESG matters. This led to the creation of a cross-functional corporate responsibility council.
"What really surprised me was the engagement of our associates. They were so excited about this council, and that's why the council was so large," Dee recalls. Looking back, she thinks that the council was too large, with members already fully occupied with other responsibilities within  the company.
Meanwhile, Basore commented on her new corporate responsibility role, which follows many years spent at the REIT as a senior property manager. She stressed that while the role is new, the initiative is not, which has eased the transition.
Basore said her "keen sense of what works well for our tenants and also fits well for our company," gave her a "really big edge starting out."
Asked to share advice for general counsels or others at REITs who are standing up their ESG functions, Dee responded: "Figure out what you are currently doing and build on it; don't be afraid to engage some experts to help you along the way; and, do what fits for your company."
Basore noted that corporate responsibility and ESG are constantly evolving. "It's important to research and network, but also to lean on those around you that have experience that you may not…there are so many individuals that can bring a lot of value to this space that may not be the first one that you think of when you think of how to roll out an ESG program," she said.