Content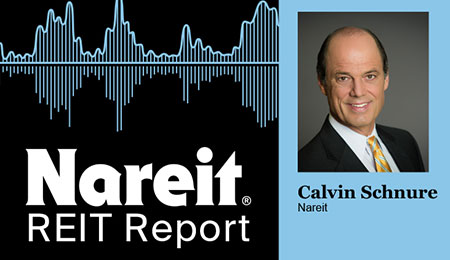 Nareit Senior Economist Calvin Schnure said the Federal Reserve's latest bank stress test results point to a banking system that is well positioned to support the real estate economy under various recovery scenarios.
Speaking June 29 on the REIT Report podcast, Schnure said the stress tests showed that most banks remain well capitalized under either a V, U, or W-shaped recovery. A V-shape sees the economy recovering later this year or early 2021, a U-shape points to a more sluggish recovery, and a W-shape indicates a double-dip recession.
The Fed also suspended share buybacks and limited dividend payments, Schnure said, noting that share buybacks have accounted for about 70% of payments made to shareholders by large banks.
Meanwhile, the Fed did underscore that the banking system overall is much better capitalized than it was during the financial crisis, "and that's going to be really important supporting the real estate economy, the tenants in the real estate space, as well as the broader overall economy," Schnure said.
Schnure also noted that Nareit's June member rent survey shows that the reopening of the economy is helping ease some of the cash flow problems that real estate tenants are facing. For example, the shopping center segment saw over 60% of rents received in June, versus less than 50% in April and May.
Health care, office, apartment and industrial sectors all saw a high level of rent received in June, Schnure added. "This is showing that among the REIT part of the sector, some of the tenants' cash flow troubles have been easing a bit in recent weeks."
Schnure also discussed the slightly more negative tone to the REIT and equities market in the past few weeks. Stock market declines reflect the need to reconsider how rapidly the economy can get back to normal and still be reasonably safe, he said, "but we are still on track for a reopening of the economy in the second half of the year."
Looking to the week ahead, Schnure said he will be watching the ISM manufacturing survey and automakers' June sales reports, noting that a rebound in auto sales was a big part of the recovery in consumer spending in May.
The ADP private employment report will be released on Wednesday, followed by the official employment report on Thursday. "We certainly hope for a strong improvement," he said.