Content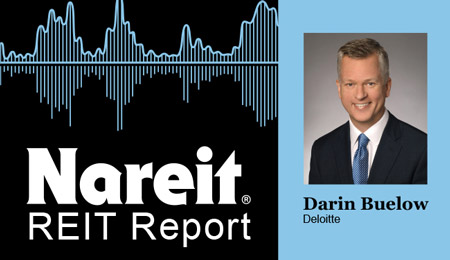 In the latest edition of the Nareit REIT Report, Darin Buelow, global location strategy leader at Deloitte, looked at the specific challenges that financial institutions face in returning to the workplace after an extended absence resulting from COVID-19.
According to Deloitte, financial institutions account for more than 15% of total office leasing activity.
Buelow noted that many financial service firms are located in downtown high-rise environments where employees have to use public transportation and deal with elevator access. COVID-19 is hitting these companies "very profoundly," he noted.
As for the pace of the return to work, Buelow noted that "there does seem to be broad consensus that many of these companies are not in a hurry to rush back." Some of these companies are going to remain out of the office for months to come, he said. While mission critical functions have come back already, "the pace of return for the rest of the workforce does seem to be out there a bit," he noted.
Most financial services industry firms will take a fairly cautious approach to re-entry, limiting capacity in phase 1 to maybe 20-25% of staff, Buelow said. In addition, firms are making the return more of an opt-in, allowing those who are uncomfortable with coming back to the office to remain at home without any repercussions.
Meanwhile, Buelow discussed the importance of safeguarding a firm's culture in situations where employees are both in the office and working from home.
"Companies have to be careful that there isn't a cultural divide between the haves and have- nots," Buelow said. One such example would be if employees in the office are wearing masks when on video calls with their remote colleagues who are not facing such restrictions.
"Figuring that out and getting it right starts with communication from the top…it's something that companies really need to focus on," Buelow said. Executive teams need to be clear, transparent, and frequent in their communication to their teams that everyone is on an equal footing, he added.