Content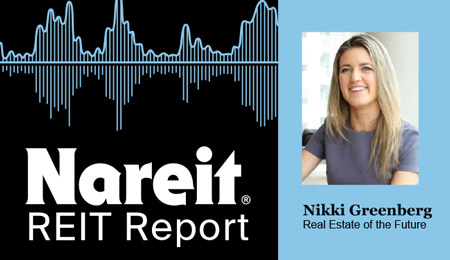 The commercial real estate industry should use the current environment as a catalyst to future-proof assets for the changing ways in which they will be used over the coming decade, according to Nikki Greenberg, founder and CEO of Real Estate of the Future.
Speaking on the REIT Report, Greenberg noted that while the ways we live and work have rapidly changed, the spaces we occupy have not. "We really need to use this as an opportunity to become future ready as we look toward 2030," she said.
"Across the board, all sectors do need to do better," Greenberg said. She stressed the importance of "a different way of thinking" that looks at the full scope of challenges ahead. "You have to have people in the room who don't think like you…the traditional way of working and owning and operating space, that's not going to serve us in the short term and it's not going to serve us very well in the longer term either," she said.
Among Greenberg's other observations:
· PropTech operators are thinking closely about flexibility and ways to enhance the spaces we use.
· The work from home experiment has produced a viable alternative to office space. "The notion of the office and where it's heading at the moment is that people come to work to socialize," which is prompting a whole rethink of how to configure space.
· By 2030, Generation Z and millennials will constitute 75% of the workforce. "If we embrace this opportunity of using technology to work in a compatible way with our spaces then we're actually going to be ahead of the trend, because change is coming."
· Looking ahead, flexibility is key. "If we start thinking in terms of flexibility, finding on-demand services and finding operators to activate spaces in terms of the uses that are in short supply…I think it's an incredible opportunity."
Greenberg also founded the networking organization Women in PropTech and is co-chair of Urban Land Institute's New York Real Estate Technology Council.