Content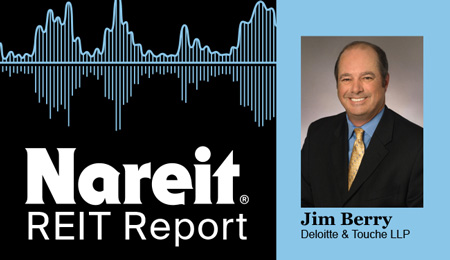 In the latest edition of the Nareit REIT Report podcast, Jim Berry, U.S. Real Estate leader at Deloitte & Touche LLP, highlighted some of the trends that emerged in Deloitte's recently released 2020 commercial real estate outlook.
Deloitte based its findings on a survey of 750 real estate owners and operators in 10 major global markets. One of the key trends in the outlook was the importance of tenant experience, with 64% of respondents saying they would continue to increase their investment in tenant experience technology.
"We noted that the clear movement on the expectations of the tenants, as well as the overall end-user, was really impacting the way real estate companies are…continuing to make decisions," Berry said.
While real estate has generally been seen as trailing other industries in terms of its investment in technology, heading into 2020 the level of investment that companies are willing to make is now at a "sustained level," according to Berry.
"The recognition's there that you need to be adopting these new technologies and looking at [the] best ways to utilize those technologies and really deal with that as a foundational part of the capital allocation," he said.
Berry also discussed the growing role for smart buildings: "Smart buildings are top of mind as you go across all the platforms and across the globe."
Other topics Berry highlighted included the use of artificial intelligence, the importance of tenant privacy and cybersecurity, and the growing need for digital skills within the real estate industry.