Content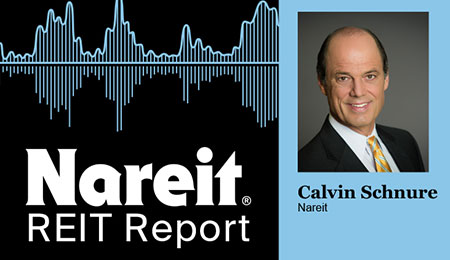 Third-quarter GDP posted the biggest increase in history as it rebounded from a record decline in the Spring, yet it still remains below levels seen a year earlier, indicating that further improvement is needed, said Nareit Senior Economist Calvin Schnure.
Speaking on the REIT Report, Schnure noted that even after the 33% increase, third quarter GDP is "still down by as much as you might see in a typical recession, so we still have a ways to go."
As for which areas showed growth, Schnure pointed to spending on goods, particularly items that can be used at home. In fact, total durable goods spending is 12.7% higher than a year earlier, Schnure said.
Spending on services, meanwhile, did rise slightly in food service and accommodations, and other entertainment, but services overall are still 7.2% lower than a year ago, Schnure said.
Business investment in the third quarter showed a "pretty good rebound," Schnure said.  "Recent numbers suggest business confidence in the post-pandemic outlook is reasonably good," he noted.
The GDP report also included data on personal incomes, which fell in the third quarter as some of the government stimulus programs expired. However, wages and salaries continue to recover.
With lower income and higher spending, the personal saving rate fell to 15.8%. The saving rate had peaked at 33.1% in April, so it is half of what it had been, but the current saving rate is still twice the pre-crisis saving rate, Schnure said.
Elsewhere, Schnure pointed out that data from CoStar shows third quarter demand growth down sharply, especially in retail and office. Vacancy levels rose across all sectors and rent growth slowed.
"Overall, commercial real estate has been relatively resilient to the magnitude of the shock, but it's going to continue to go through a rough patch while the rest of the economy is struggling as well," Schnure said.