Content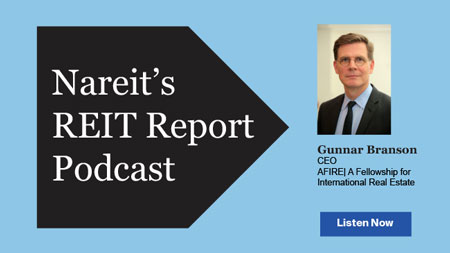 The latest edition of the Nareit REIT Report podcast featured Gunnar Branson, the CEO of AFIRE, an association for global investors focused on institutional real estate in the United States.
Branson highlighted some of the key findings from AFIRE's recently-released annual International Investor Survey.
Despite the current length of the real estate cycle and geopolitical and economic concerns, Branson said there's "a strong sense of confidence in how things look this year. There continues to be a lot of interest from non-U.S. investors in U.S. property markets."
Branson also commented on the fact that 83 percent of survey respondents said climate change will affect their real estate portfolio strategies in the next decade. "It's an indication of how institutional investors think…if you are looking at the long term this is a risk that you have to pay attention to and have to prepare for."
Meanwhile, Branson discussed New York's ranking as the most stable and secure real estate market and noted that Boston and Seattle are also highly favored by investors. In terms of sectors, he said industrial and multifamily topped the list of areas where investors want to increase their exposure.
Branson added that the survey underscored that "the institutional real estate investor continues to be a very long-term focused investor—more so than the general population understands."