Content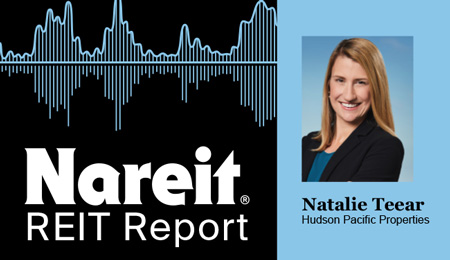 Hudson Pacific Properties, Inc. (NYSE: HPP) is preparing to welcome tenants back into its buildings by implementing new standard operating procedures across its portfolio, touching on everything from enhanced cleaning to increased signage and physical distancing policies.
Speaking on the Nareit REIT Report podcast, Natalie Teear, vice president of sustainability and social impact at Hudson Pacific, said the REIT is rolling out a "four-C's" approach that encompasses communication, confidence, convenience, and cooperation. Hudson Pacific is also launching a mobile app at all of its multi-tenant properties in order to share the most up to date information with tenants on a real-time basis.
Teear also discussed Hudson Pacific's newly released Better Blueprint platform. It sets primary goals to foster sustainable, healthy, and equitable communities, and "brings to life our vision of vibrant, thriving urban spaces built for the long-term," Teear said.
Going forward, Teear noted that one of the key areas of Hudson Pacific's philanthropic efforts will be homelessness and the lack of affordable housing. She explained that while the REIT's properties are located in vibrant, highly desirable neighborhoods, they also represent some of the most acute examples of homelessness and lack of affordable housing.
"Because of COVID-19, this issue is getting exacerbated in ways we never could have imagined. We know for sure this will continue to be a critical area for us for the rest of this year and going forward," Teear said.