Content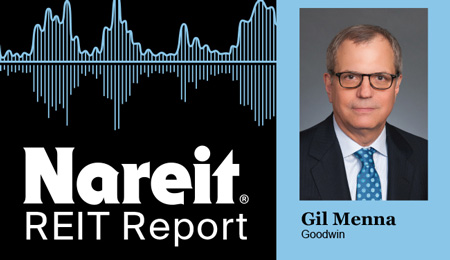 In the latest edition of Nareit's REIT Report podcast, Gil Menna, co-chair of the REITs and real estate M&A practice at law firm Goodwin, discussed the climate surrounding mergers and acquisitions (M&A) and initial public offering (IPO) activity.
M&A activity has been light in 2019 compared to previous years, in large part due to an "anemic" REIT market performance last year, Menna said.
"Certain sectors in the REIT market have been off. Normally that would result in privatization transactions of public companies that are trading at discounts to net asset value (NAV), but we haven't seen a significant amount of activity there as well because there has been an abundance of private opportunities available for capital that's attracted to the real estate asset class," Menna explained.
Menna noted that in the context of capital flows, Goodwin is seeing a "continued and significant uptick" of interest in joint ventures and investments in real estate. "We're starting to see more and more institutional investors wanting to do business with platforms that are public."
Some REITs, notably those that are trading at significant discounts to NAV, are using their development platforms to attract foreign capital "to keep their engines running. I think we're going to see more and more of that in the years ahead," Menna said.
Menna also noted that in terms of IPOs, niche sectors or companies that are unique in some respect are most likely to garner investor interest.
"If the right cold storage company came to market…or [a] technologically-oriented real estate platform came to market with significant growth prospects, even if it was small, I think you would see the market digest that and be very interested in that kind of offering," he said.