Content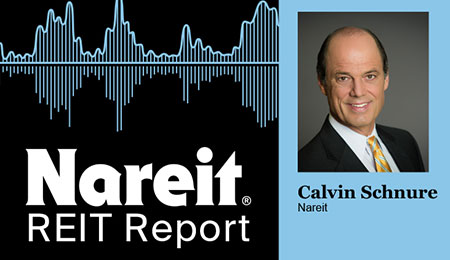 Nareit Senior Economist Calvin Schnure said the June employment numbers released last week were a "welcome positive surprise" that shows commercial real estate is heading in the right direction.
Speaking July 6 on the REIT Report podcast, Schnure said the 4.8 million jobs reported for June exceeded expectations by a wide margin. The unemployment rate, meanwhile, fell more than anticipated, to 11.1%. While that is still a very high number, Schnure said, "this is a good down payment on the recovery that we're going to need."
Hiring last month was concentrated in the sectors that had the biggest job losses when the economy shut down, such as retail and hospitality, Schnure pointed out. Despite the jump in employment, many of these establishments will not be doing their pre-crisis level of business right away, he noted.
"There are still going to be cash flow issues with commercial real estate that aren't going to go away quickly, but we're on the right trend finally," Schnure said. At the same time, a resurgence in COVID-19 infections means "there's a danger that renewed shutdowns could reverse some of the economic progress we've seen," he added.
In addition to the June employment data, several other reports offered positive news on the economy, Schnure said. Contracts for home purchases surged in May, the ISM manufacturing report indicated factory output is rebounding, and the minutes from the Federal Reserve's Federal Open Market Committee (FOMC) meeting in early June indicated the Fed is considering ways to reinforce its message that monetary policy will support the economy well into the future.
The bottom line from the Fed minutes for commercial real estate, Schnure said, was that interest rates will be "very favorable for quite a while into the future."
REITs responded positively to the news, Schnure said, breaking a string of three weekly declines. The FTSE Nareit All Equity REITs index was up 5.2%, bringing the total return year-to-date to minus 11.6%. All property sectors of equity REITs rose, while mREITs edged down about a half percent.
-------------------
Subscribe to The REIT Report Podcast via Podomatic or Apple Podcasts