Content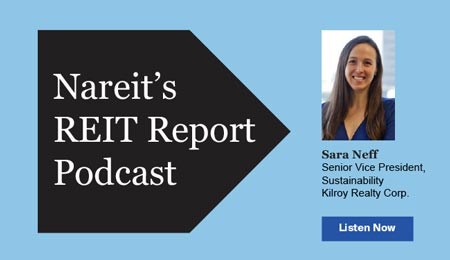 Sara Neff, Kilroy Realty Corp.'s (NYSE: KRC) senior vice president for sustainability, was a guest on the latest edition of Nareit's REIT Report podcast.
Kilroy was recently named a global sector leader in the 2018 GRESB Real Estate Assessment.
The West Coast office REIT has set a goal to achieve carbon neutral operations by the end of 2020. Neff noted that although buildings generate 40 percent of carbon emissions, they are still largely overlooked by both the real estate and the larger environmental community. Kilroy is attempting to change that and has already put agreements in place to reach the 2020 deadline, Neff said. "We are going to deliver."
Kilroy's efforts have not gone unnoticed by the rest of the industry. "We've gotten a whole lot of interest from other real estate companies who seem to be scrambling a little bit on how to do the same thing that we've done," Neff said.
Neff pointed out that the tech sector has also embraced the goal of carbon neutrality for members of its supply chain, which includes Kilroy. "We're really hoping that the tech companies start realizing that demanding carbon neutral operations from their landlords is something they can and should be doing," she said.
Meanwhile, Neff said the recent Global Climate Action Summit in San Francisco included a focus on annual report climate change and sustainability disclosures. Although Kilroy has been a leader in this field, "it looks like we'll need to be expanding even further to talk about climate change mitigation scenarios," she noted.