Content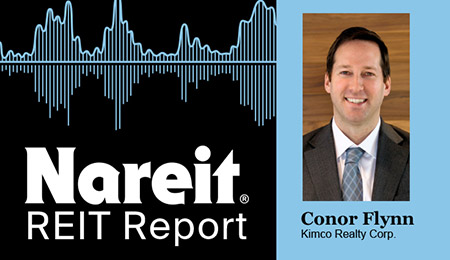 In the latest edition of the Nareit REIT Report podcast, Kimco Realty Corp. (NYSE: KIM) CEO Conor Flynn discussed the shopping center REIT's unique approach to ESG matters.
Flynn reflected on the evolution of Kimco's ESG program since its inauguration 8 years ago. "Today we're in a very different place," he said. As the program has matured, Kimco has found ways to embed various ESG activities and responsibilities into existing teams across the entire organization. Now, instead of having one individual directing all its ESG efforts, Kimco has shifted to managing through a cross-functional steering committee comprised of various department leaders.
From an environmental perspective, moving the needle requires a sustained multiyear commitment, Flynn observed. He noted that the scale with which Kimco has adopted energy efficiency measures has been "transformative." For example, the REIT recently concluded a first-of-its-kind installation of over 4,500 submeters across every tenant space in its portfolio. Because tenants are now billed on their actual consumption, they have a direct financial incentive to conserve, he said.
On the social front, Kimco has worked to be a leader among REITs, according to Flynn. "In the current environment, talented employees really are your best assets and they're critical to your success." Kimco has launched a number of employee programs designed to make the REIT an "employer of choice," he said. As proof of that, earlier this year Kimco received a Great Place to Work certification.
Flynn stressed the importance for Kimco to build on its 60-year legacy and take ESG to the next level and "really shape the future for the next generation."
"Owning as much as we do, we can really showcase how to do things the right way that'll help drive return on investment for all of our stakeholders," Flynn said.