Content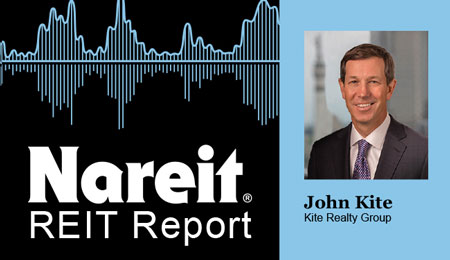 A new small business loan program recently launched by Kite Realty Group Trust (NYSE: KRG) is trying to give its tenants a "bridge to the other side" during the current economic uncertainty, said Kite Realty chairman and CEO John Kite.
In the May 1 edition of the REIT Report, Kite said the company is "on the front lines of this thing as it relates to the small business community." The KRG Small Business Loan program will provide up to $5 million in total assistance and allow Kite's small business tenants to request a loan amount of up to three months of operating expenses.
Kite said the idea to assist the REIT's tenants, who were having difficulty accessing the Paycheck Protection Plan, "gained steam very quickly inside the company."
The reaction to the program so far has been positive. "We fully anticipate looking to lend out as much as we can in this program," Kite said.
Meanwhile, the company is already having regular discussions with tenants regarding steps to reopen for business. Each of the 16 states where Kite operates is "rolling out a little differently," Kite said. In the next few weeks, the company hopes to provide its tenants with guidance on best practices learned during the various moves toward reopening.
Kite also commented on the company's strategic repositioning and how the strength of its balance sheet made it "very comfortable" creating the tenant loan program. He also discussed the growing importance of physical retail in an omnichannel world, and what he expects to be a greater appreciation for the importance of small businesses to the community.
"When you think about the ecosystem that exists in physical retail and its connection to the community, it's going to only be stronger," Kite said.