Content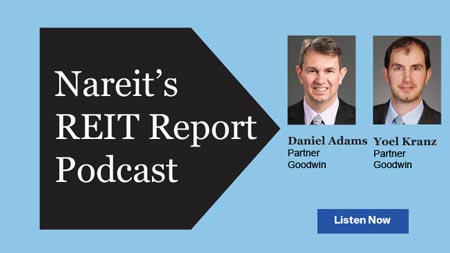 The latest edition of the Nareit REIT Report podcast featured Yoel Kranz, a partner in Goodwin's REIT Capital Markets and M&A/Corporate Governance practices, and Daniel Adams, a partner in the firm's Business Law Department, where he is co-chair of the Capital Markets group and a member of its REITs and Real Estate M&A practices.
Kranz and Adams spoke on various corporate governance issues, including where the impetus for change in the REIT sector is coming from today.
Kranz pointed out that there is a relatively small group of large institutional investors that have changed the way they approach governance issues. "It used to be that these were very passive investors…that has really changed," he said. Large institutional investors have taken a very active interest in governance and are making their wishes and interests known to management teams.
"We're living in a social and political environment today where governance is front and center," Kranz said. "There really is a focus on good governance and doing the right thing and being good stewards of shareholder capital."
Adams described a "healthy" participation in governance from both companies and shareholders. He added that large institutional investors like BlackRock "have really embraced their role as stewards and are focused on governance in a collaborative way."
In terms of the biggest changes in governance metrics made by REITs, Adams said board diversity would be at the top of the list. He also highlighted proxy access, noting that almost a third of all REITs now have some form of proxy access versus less than 20 percent two years ago. Shareholders' rights to propose binding bylaw amendments are another area of change, he added.
Looking ahead, Adams said the reaction to new ESG metrics is in the beginning stages. "It's still something of a wild west," Kranz said. "We're just beginning to see a real focus on high performance sustainable real estate."