Content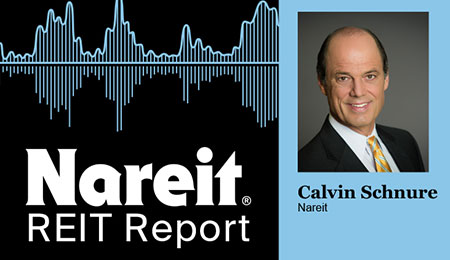 Economic reports released in the past week were mostly positive, but with millions still unemployed and benefits expiring, the need for additional stimulus measures remains, according to Nareit Senior Economist Calvin Schnure.
Speaking Aug. 10 on the REIT Report, Schnure said economic data reported last week "helps dispel some of the fears that the recovery stalled last month" due to the continued spread of the coronavirus.
Schnure noted that the ISM survey on manufacturing rose to 54.2, stronger than expected and above the 50 mark that indicates a growing sector. Motor vehicle sales were at a 14.5 million unit pace last month, also above expectations. "Consumers are coming back as the economy reopens," he said.
At the same time, July payrolls rose 1.8 million and the unemployment rate dropped to 10.2%. Job gains were still in the areas that shut down hardest in the spring—hospitality, especially restaurants and bars, and retail. Yet with millions of people unemployed, Schnure stressed that the economy will need to continue reopening before these people can all come back to work.
Schnure added that as benefits expire, the potential damage to economic fundamentals is likely to grow in the absence of any additional stimulus measures. He described President Trump's executive order announced this weekend as a "stop-gap measure," with more action likely to be needed.
Meanwhile, REITs have been reporting second quarter earnings. "The results so far show a wide range between the different sectors that are mirroring what we see in the real economy," Schnure said. He noted that results will be reflected in the upcoming Nareit T-Tracker report.
Stock market reaction to the earnings was muted, Schnure said, which indicates that results were generally consistent with what investors had expected based on economic reports and company earnings guidance.