Content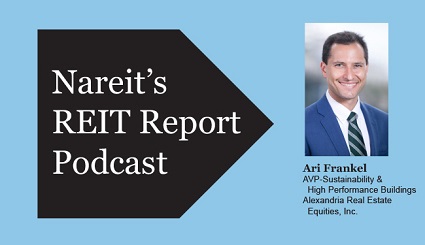 Ari Frankel, assistant vice president for sustainability and high-performance buildings at Alexandria Real Estate Equities, Inc. (NYSE: ARE), was a guest on a special edition of Nareit's REIT Report Podcast during Nareit's REITworld in November.
Alexandria owns, operates and develops collaborative life science and technology campuses in North America. Alexandria received the 2017 "Most Innovative" Leader in the Light Award, which was announced at REITworld.
Frankel was asked about Alexandria's focus on health and wellness. He noted that the company has shown an enduring commitment to health and wellness. "Before highly amenitized campuses that promote health, wellness and productivity were all the rage, Alexandria was doing it," he said.
Alexandria was named a "First-in-Class Fitwel Champion," earning five of Fitwel's highest achievable ratings at four of its campuses, in 2016. Additionally, Frankel highlighted that Alexandria's role in raising awareness in the real estate industry about opportunities to promote health and wellness, which he said is core to the company's mission to help cure disease, solve hunger and improve the way people work and live. Fitwel was developed by the federal government to boost occupant health and productivity through improvements to workplace design and policies.
Frankel explained what makes Fitwel "a low-cost, high-impact tool" that can be used in every building. Regarding the demand for healthy buildings and services, Frankel said they help to retain talented employees and have come to be expected by millennials in the workforce. He also noted that more evidence is emerging that suggests health and wellness initiatives help drive companies' financial performance.