Content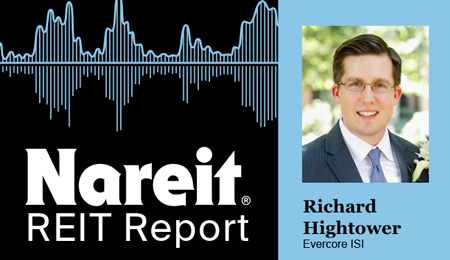 After underperforming in 2019, the lodging and resort REIT sector is on a similar track in the first few weeks of 2020, according to Evercore ISI managing director Rich Hightower.
In the latest edition of the Nareit REIT Report podcast, Hightower said he expects no more than a 1-2% increase in room night demand in 2020. Supply, meanwhile, is increasing at a 2-2 ½% range, and more so in some of the urban markets.
"It seems to be hard to argue for ADR (average daily rate) improvements in a declining occupancy scenario," Hightower said. He noted that the industry didn't see much pricing power at all in 2019, and that was at a time when occupancies were still growing. Consequently, RevPAR is likely to be flat to lower in 2020, according to Hightower.
Meanwhile, Hightower noted that TRevPAR (total revenue per available room) became a mainstream statistic that companies started to report in 2019. It captures non-room revenue and is growing at a rate in excess of RevPAR, he said.
Included in TRevPAR are resort and amenity fees, which have seen a lot of growth over the last couple of years, according to Hightower. He added that there will likely be increased transparency going forward as to how those rates are determined.
As for key topics to watch in the lodging and resort segment, Hightower pointed to the potential AirBnb initial public offering.