Content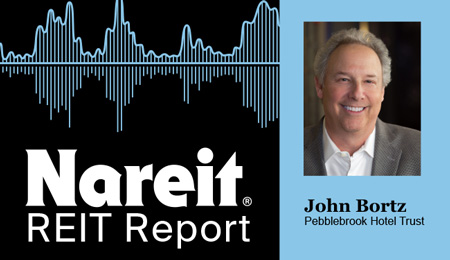 The lodging sector was one of the first industries to feel the economic brunt of the coronavirus crisis, and it will likely be one of the last to benefit from an eventual upturn, Pebblebrook Hotel Trust (NYSE: PEB) Chairman and CEO Jon Bortz said.
Speaking April 9 on the REIT Report podcast, Bortz said about half of the hotels across the industry have now closed completely, with millions of employees furloughed. "We think it's going to be a very slow recovery," he said.
By the end of March, operations at all but eight of Pebblebrook's 54 hotels had been suspended and over 7,500 employees furloughed. Meanwhile, costs have been cut at the corporate level, with executives volunteering to either reduce or forego their compensation. Pebblebrook has cut back on capital projects and drawn down its line of credit completely. "We're sitting on a little over $700 million that should allow us, with a fairly significant cash burn, to get through the better part of next year," Bortz said.
Bortz, who is 2020 chair of the American Hotel and Lodging Association, also described some of the advocacy efforts the group has conducted.
Bortz said he expects social distancing restrictions to remain in place, although not as severe as they are currently, until some form of medical advancement and testing emerges. "We're very concerned that travel will be much more limited than it was going into this," he said.
Among the different travel segments, leisure is likely to be the first to recover, Bortz said, especially resorts within driving distance. Group travel, meanwhile, will be "very slow" to see any improvement.
Among the various changes that could occur in the industry post-crisis, Bortz indicated that human interaction may be more limited, while cleaning protocols could change.
Bortz also highlighted that with demand expected to remain unpredictable for a significant period, union job restrictions and rules need to be lifted, paving the way for more job sharing and training. "We're going to need to staff these hotels with fewer people in order to make ends meet," he said.