Content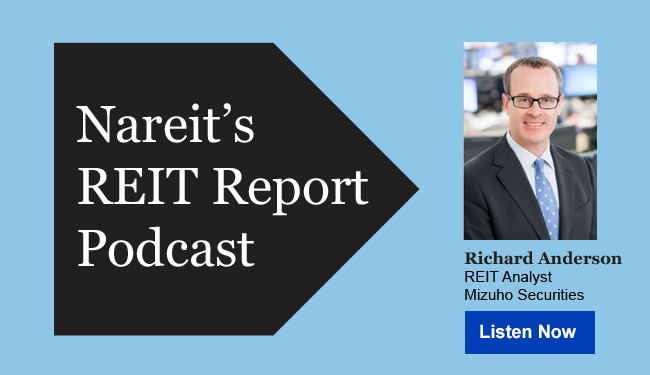 In the latest edition of Nareit's REIT Report Podcast, Mizuho Securities analyst Richard Anderson recapped the REIT market's performance in 2017 and discussed some of the story's to watching in 2018.
Anderson noted that the different sectors within the REIT market offered a broad range of performance in 2017. The sectors that outperformed or underperformed didn't surprise many observers, according to Anderson, but the range of performance did.
Anderson was asked about the state of the retail REIT sector, particularly mall REITs. "The pace by which we saw store closings was a bit of a surprise," Anderson said. However, he pointed out that developments late in the year suggested an uptick in mergers and acquisitions could be on the way.
Regarding the tax reform bill passed at the end of 2017, Anderson said the new legislation would have positive implications for REITs.
In terms of stories to watch in the remainder of 2018, Anderson pointed to multifamily REITs. He said it could be a "nice holding pattern year for a sector with a long history of performing well" before seeing gains in the apartment sector in the second half of the year and into 2019.