Content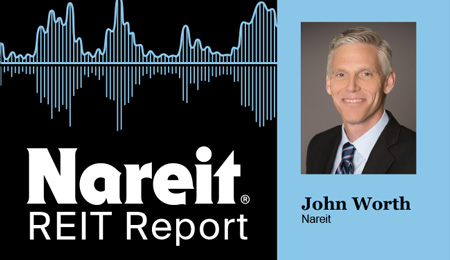 A Nareit survey of April rent collection across the REIT industry points to a strong performance by industrial, multifamily, and office REITs.
Nareit Executive Vice President for Research and Investor Outreach John Worth told the REIT Report April 22 that industrial REITs saw 99% of typical rents received in April. The survey was conducted between April 8-15.
Multifamily REITs collected 93.5% of typical April rents, while office REITs collected 89.3% of typical April rents. Worth noted that there had been uncertainty as to how office REITs would fare, but "the fact that nearly 90% of rents have been paid does reflect the strong credit quality of REIT tenants."
Health care REITs collected 85.7% of typical April rents, while shopping centers collected 46.2%.
The survey incorporated data from 54 REITs, representing more than $418 million in equity market capitalization.
Worth stressed that rents paid support a wide range of activities by building owners and operators. REIT operations support nearly 2.4 million jobs in the United States and the costs associated with operating REIT buildings include paying $19 billion in property tax to support state and local governments.
Each of these REIT activities are supporting consumption by other households, so when rents aren't paid, what we see are layoffs, deferred construction and capex, and reduced dividends, and potentially the need to work out or restructure debt with banks and bondholders. Each of those exacerbate the severity of the economic downturn," Worth said. He stressed the importance for those tenants that can afford to pay rent to do so, and for those that can't pay rent to receive the appropriate support.
Looking ahead, Worth said Nareit will re-run the survey in May and June to gather more real time rent data that can be used by REITs, investors, and policymakers.